Stuffing or dressing....however you call it my family LOVES mine. I took my mom's basic recipe (just learned it by watching her and helping her for 15 years) and spruced it up just a bit with my own twist. I start with the basic....bread....and then I just start adding...little bit of corn bread, onions, celery..eggs...stock...melted butter (yum)...and my bit is cooked sage sausage....mix mix mix.....finish up with the sage/salt/pepper!
Where is the challenge in that you ask, well, I want you to create a card that has at least 7 different items....the card base doesn't count, BUT you can use everything from different papers, embellishments, etc, just so I can SEE at LEAST 7 distinctive items! THEN not counting those 7, I want you to add a bit of BLING (can be something simple as a gem) for the spice!
Here is my example:
I used: Patterned Paper, yellow cardstock, stamps, flowers, rickrack, button, twine and topped it off with the bling!
Completed projects for this challenge must be uploaded to this thread by midnight on November 30th to be eligible for prizes.
_________________
Mom to 8 great kids and best friends with one WONDERFUL man, my Hubby!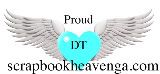 Juliet's Blog Spot