Here is Holly's sketch....
And here is her layout example...
Now....for the challenge....
Holly used MINIMAL colors on this layout to make the focus on the picture!!! I love that....so your challenge is to use a SOLID background (no pp) and use ONLY 3 other colors but they must be used SPARINGLY!!! Have fun!
Please post a link to your layout(s) in this thread! It(they) must be linked in this thread to count!
All layouts are due on July 28, midnight EST
_________________
Mom to 8 great kids and best friends with one WONDERFUL man, my Hubby!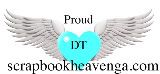 Juliet's Blog Spot