WE MADE IT!!!!!
Today is the finishing touches....you had a HUGE hint yesterday....
FIRST I want to see a quote of some sort on your layout! I found the one that you see here on the web and actually saved it and printed it directly on cardstock! I LOVE how it turned out and I WILLLLL be doing that again! You don't have to do it that way....you can just find your favorite quote and write it on your layout....
I found this one on pinterest! (not surprised are you?)
BUT wait...we are NOOOOOOT done.....a title....it is not always necessary but I seem to always add one...but today I want you to break up a word in your title....I love this look but always struggle doing it on my layouts so I challenged myself to do it! I broke up 'being' to 'be' on one line and 'ing' right below it!
(sorry about the bad photos...it decided to rain today!!!)
And....one more little thing....DISTRESS AT LEAST ONE EDGE of your layout! Yup....nothing neat here....one of my other little favorite things to do! I just take my layouts between my thumb and finger and bend....some folks like to get the edges a little wet and then bend...how ever you want to do it let me see some distressing! AT LEAST one edge...but it is more fun to do the whole layout! (little close up here)
Here is my finished layout....you can add more of what ever you want! Make it your own! I added some bling to the flowers....
_________________
Mom to 8 great kids and best friends with one WONDERFUL man, my Hubby!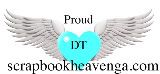 Juliet's Blog Spot